Applications
Alta Call, the first voice technology for contact centres bringing clients and agents closer together.
Call & Contact centers
Boost agents' performance, capitalizing on voice.
Every day, millions of calls to contact centers fail because of communication issues. This has an impact on contact centres' business and on their working conditions.
Based on 12 years of research in signal processing and neurosciences, Alta Call makes conversations clear and natural.
Easy-to-install massively, no user-interaction needed to run, immediate integration with every software or conferencing plarform (Hermes, Avaya, Zoom, Teams, etc.).
Using Alta Call, contact centers agents boost their individual performance.
---
Sales
Up to +12%
On the phone, clients and customers picture each other from their voice. Can I trust this person? Am I losing my time?
Customer satisfaction
Up to +15%
Alta Call makes conversations clearer and more natural, leading to better customers' and agents' experience - with no further effort on their side.
---
How does it work?
Alta Call turns any voice into a clearer one, and enhances smile. Agents' work is eased, as they can focus on the client (active listening) while reducing the effort on their tone of voice. Clients perceive them more positively, conversations are easier. Agents are less tired, happier at work and more engaged.
---
Clear
Making speech more intelligible and removing background noise.
Research with our clients shows that call center operators enhanced with Alta Voce get to engage with more customers than in their normal, unprocessed audio conditions.
Smiling
Enhancing a speaker's attitude, for instance how smiling and welcoming they sound.
Research in the lab shows that smiling voices engage more attention from listeners, triggers spontaneous smiles, and is especially effective on younger listeners.
In the call-center industry, voices augmented with our technology increase customer engagement and agents' performance.
---
Request a demo
Get in touch by email at contact@alta-voce.tech and we'll get you started with a download link and access to our documentation!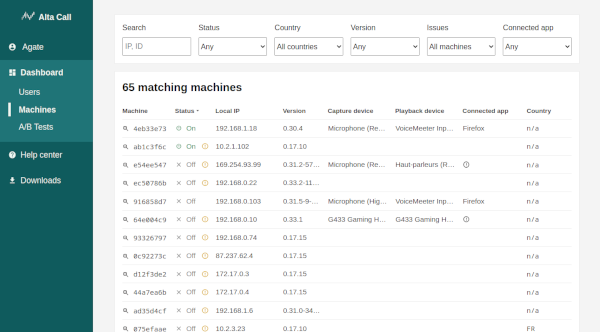 ---
Integrate voice enhancement into your own applications
Voice is everywhere, let it sound.
Our SDK can adapt to your needs for voice enhancing, background noise canceling and emotion effects.
Applications include:
Avionics: improve communications between pilots and ground control
Voice bots and smart speakers: humanise your synthetic voice by adapting emotions in real time
Gaming: real-time voice transformation to tweak characters and avatars
Your imagination is the limit!
Contact us to design the best voice technology for your needs.